With over a thousand gorgeous tropical islands floating in aquamarine waters that stretch out for as far as the eye can see, it's no wonder that the Maldives positions itself as a world-class beach destination for travellers.
Envision miles of ivory sand that melts beneath your feet and palm fronds that sway to the rhythm of the warm sea breeze.
Considering the privacy and social distancing that the many private island resorts in the country naturally offer, post-pandemic, it comes as no surprise  that there's a new level of appreciation for this beautiful and conveniently-secluded archipelago.
With so many paradisiacal island clusters to choose from, the question becomes not whether or not to visit, but rather which atolls to focus your energy on. The Maldives has 26 atolls in total, but when it comes to a dream vacation, some stand out more than others.
Here are some of the best atolls to stay at in the Maldives.
The Baa Atoll
Highlights:
The UNESCO Biosphere Reserve / marine life
Great diving and snorkelling spots
While the term bountiful can most definitely be applied to the waters surrounding most atolls in the Maldives, it is especially true for those of the Baa Atoll. The waters are teeming with life and if you're a marine life enthusiast, there is no better atoll to visit than this one.
Owing to the diverse marine life species that thrive in the waters, the Baa Atoll has been designated a UNESCO Biosphere Reserve. There are around 250 species of coral reefs there and they support numerous species of fish and other marine life as well as seabirds. Spots like Hanifaru Bay are a hotspot for marine life activity, an example of which is the annually occurring manta ray gatherings.
Once you've set your sights on the Baa Atoll, the next matter to look into is where to stay. There are several Maldivian resorts in the Baa atoll itself as well as in neighbouring atolls that you can choose from, many of which are a part of world-renowned hotel chains.
One of these is the InterContinental Maldives Maamunagau Resort. Guests are offered excursions to Hanifaru Bay, which is located about 45 minutes away from the resort by boat.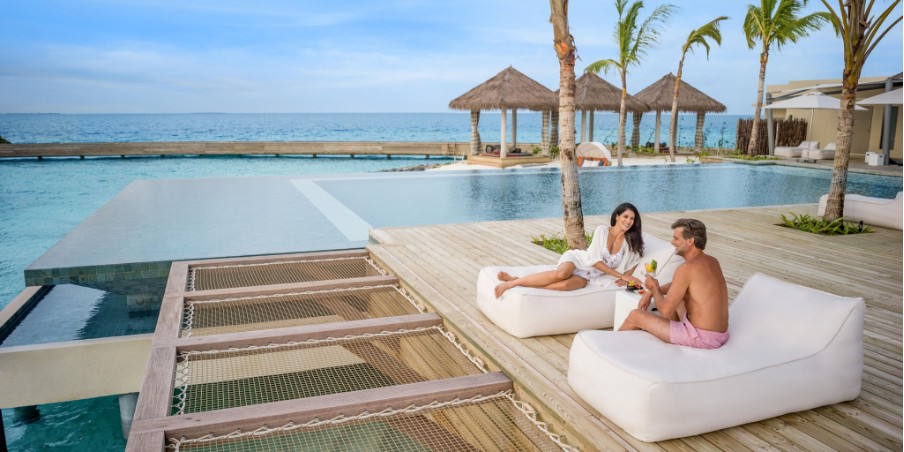 The North Malé Atoll
Highlights:
Many excellent diving and snorkelling spots
Proximity to the capital, Malé and the airport island, Hulhulé
The North Malé Atoll has its fair share of resorts and a great many excelling diving spots. These include sites such as Hannes Reef, Fairytale Reef, Banana Reef, Prisca and Meeru.
Sometimes, proximity is one of the main factors when it comes to deciding where to stay. If you're planning a short vacation in the Maldives or plan to explore the capital during your stay, consider the North Malé Atoll (Malé is located at its southern end).
From most resorts in this atoll, it would only take you around 15 minutes to reach Velana International Airport by boat. To put that into perspective, take the Baa Atoll which is located further away. From a resort in that atoll, it would take a seaplane transfer of around 30 minutes to reach the airport. By boat it would take hours.
Gnaviyani Atoll
Highlights:
Diverse terrain to explore
A unique, one-island atoll

Unlike many of the other atolls that have tens or hundreds of islands, the Gnaviyani Atoll has but one, the island of Fuvamulah. This small one-island atoll is situated between the Addu and Huvadhu Atolls and was off-limits to tourists until recently.
What makes it special? Most resort islands offer a wonderful beachside experience, but if you go island or resort hopping, after some time, it can all start to look a little similar. Fuvamulah shakes things up terrain-wise.
Trade smooth, ivory shores for pebbled beaches and lush forest, and the shimmering waves of the Indian Ocean with the still pools of freshwater lakes.
Where can you stay? The island offers a variety of accommodation types from hotels to inns and private residences.